About Us
Goode Cause
The wellness experts behind Goode Health™ believe that complete nutrition is the foundation of health. But when people try to cobble together everything their bodies need from random supplements or even food, it's expensive, inconvenient, and incomplete. 

As a result, the average American (92% of us to be exact!) has significant micronutrient deficits that affect everything from energy levels to chronic disease risk.
If you ask us, you shouldn't have to buy stock in kale or pop a dozen pills a day to achieve essential micronutrient levels—everyone should have easy access to the right dose of optimal nutrition to make a difference. It's why we set out to deliver precisely the micronutrients we all tend to fall short on with an affordable, science-backed daily smoothie mix that people actually want to sip. 

Because we wouldn't rest until we could prove that our smoothie mix would move the needle on biomarkers of wellness and preventative health more effectively than alternatives, we built a wellness platform to track exactly how your health markers vital signs improve when your body (finally!) gets the nutrition it needs. The science is in every sip—it could be why 85% of our customers see improved biomarkers with consistent use.

*Image from the Goode Health Score dashboard, based on blood test results
Our formula one-ups your daily regimen,  with a smoothie loaded with protein, fiber, micronutrients, and vitamins derived from whole foods
Goode Stuff
Stronger than a pill and more potent than other powdered supplements, Goode Health is developed by physicians and nutritionists, taste-tested by A-listers, and gives you the same benefits previously only available to elite athletes.  We deliver just the right amounts of the micronutrients your body requires to function in tip top shape.

We give you a proprietary blend of nutrients derived from the planet's finest food sources, specifically chosen for their quality and bioaccessibility—like organic chia seeds grown for a small female-owned farm-agricultural business and bilberry harvested from sources with the highest soil nutrients.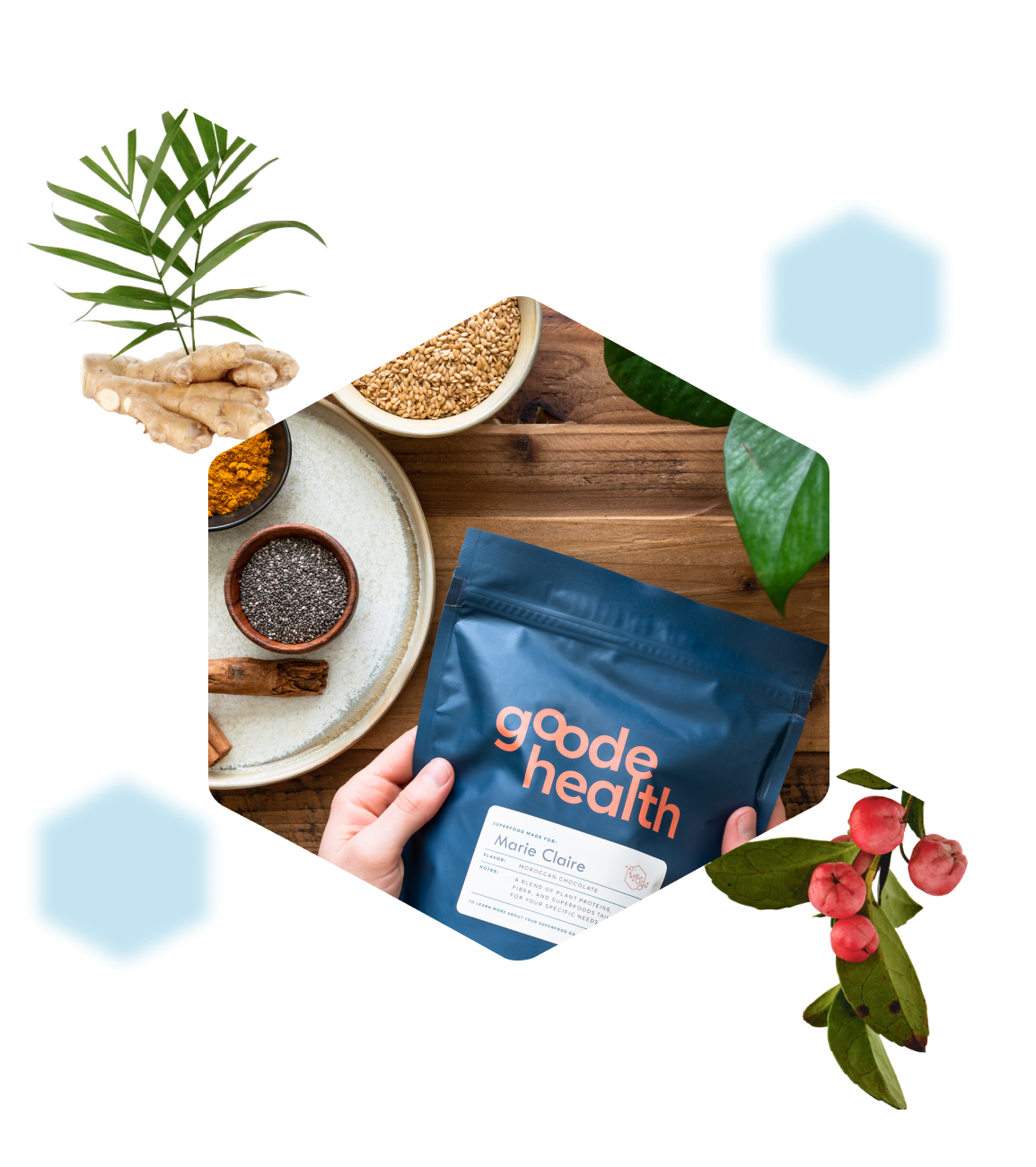 Goode Health™ features our CORE8™ Micronutrients blend packaged with fiber and protein to increase satisfaction and optimize absorption
Plus it's a real stand-out when it comes to taste. Our Immune Support, Metabolism, Vascular, and Recovery Boosters contain even more Goode Stuff: Formulated and tested by physicians, these add-ons can help you meet more specific health goals.
Gooder than Greens
Just because a smoothie's green doesn't mean it's Goode. Derived exclusively from the most potent, bioavailable whole foods—yes, including green ones—Goode Health delivers all the vitamins and minerals found in alternative supplement powders like Athletic Greens, but packages it with fiber and protein to enhance nutrient value and satisfaction. Plus, only Goode Health offers customized nutrition based on your unique needs.
| | Goode Health™ | Athletic Greens® |
| --- | --- | --- |
| CORE8™ Micronutrients | | |
| Protein | 14g | 2g |
| Fiber | 5g | 2g |
| Polyphenol Antioxidants | 235mg | 5mg |
| Cost | $49/month | $99/month |
| Customizable Add-Ons | | |
| Free Shipping | | |
Goode People
Our 360-degree approach to wellbeing is driven by a Medical Advisory Board comprised of the nation's top health, nutrition, and wellness experts.
Get to know them here!